Company POLYAGRAM was founded in 1992 specializing in bathroom equipment production. The product line of POLYAGRAM consists of acrylic bathtubs and shower trays, massage-therapeutic bathtubs, shower cabins and screens for multiple types of bathtubs, cast sanitary marble, basins, sinks and bathroom furniture. We cherish our own production and technology development and we have over 300 sellers and distributers in the region and beyond.

For over a year we have been located in a new, modern and purpose-built business and production facility with doubled capacity situated in one of the industrial zones in Kragujevac. Besides up-to-date production line, POLYAGRAM now possesses its own distributive fleet of vehicles, networked computer system, and since recently an internationally recognized brand.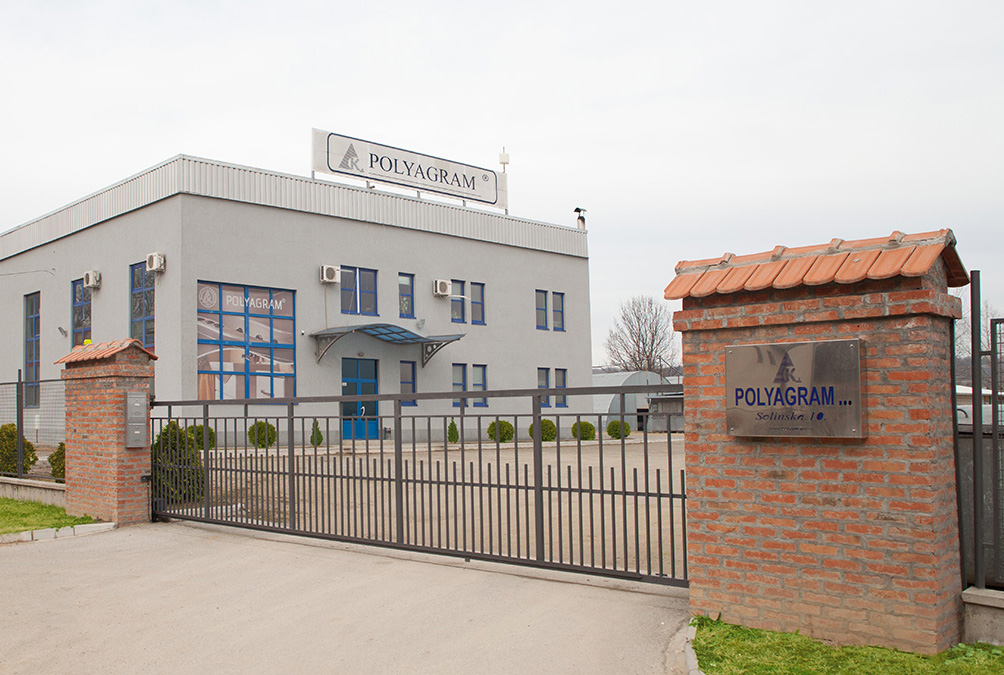 Our production and sales program consists of the following groups of products:
Acrylic bathtubs (rectangular, corner, and special) with or without a pedestal and sideway panels.
Shower trays in different versions: compact, with isolating splint made from expanded polystyrene, installable, or with metal pedestal and plate
Massage bathtubs 
Shower cabins and screens
Screens and cabins for classic bathtubs
Bathroom furniture
Components for production / installment of stairway balusters, balconies and alike made from specifically processed aluminium alloy
Compatible programs – sanitary ceramics and tools
All our bathtubs are made from sanitary acrylic, i.e.  special type of material being healthy and officially permitted in sanitary and food industry. Acrylic sheets are antibacterial and UV resistant. Our acrylic bathtubs are shiny, pleasant to touch even at low temperatures due to thermal isolation.
Acrylic surfaces are easily cleaned and maintained since water and residue do not adhere in comparison with other materials.  
Do the cleaning with soft sponge or cloth with liquid detergent. Do not use abrasive cleaning agents containing solid particles because it can damage bathtub shine.  If necessary, you can polish the bathtub with fine polishing paste applied on the cloth.
Advantages of our offer
We provide a complete assortment of bathroom equipment at one place enabling effective specialization of our distributors and decreased business expenses. We offer the best quality at competitive prices.

Our brand, internationally and legally protected, is recognizable and proven on the market. Our suppliers of basic materials supply the most famous world brands. We have obtained all necessary certificates on security and product compliance.